College Connect (Techno -Sales)
COMPANY GOAL : Upskill 10,000 aspirants in India in IoT and AI domain in the next one year
What is the Activity about?
IoTIoT plans to upskill 10,000 aspirants in various colleges and companies across India. We have various low cost AI and IoT workshop programmes with technical material and projects ready. We are looking for regional leads to co ordinate and organise these workshops in their region.
The only AIoT training which helps you make live professional products and not just educational projects from the internet.
A product backed by tech expertise of ShunyaOS 
-> 20% revenue share for all workshops plus fixed stipend of 5k-10k
-> If you are also technically inclined, participants pay but you learn everything Free.
-> Experience letter to boost your CV and build your own github technical profile with these projects.

-> You can also get free git and project management training from us (only if you are technically inclined and want to)
Graphical Flow of Job Description and Payouts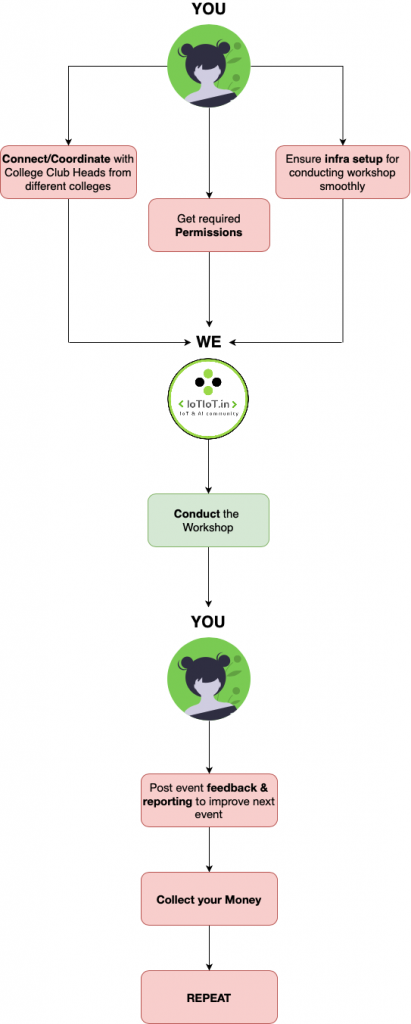 Applications are closed...
-> Contact developer club leads across colleges and get the required permissions for technical workshops.
-> Hold Free webinars on these topics.
-> Conduct online demos explain via QnA sessions on what Technical Workshops is all about.
-> Find partners and onboard them with online demo and Q&A
-> Coordinate and manage the workshops and ensure participant satisfaction.
-> Capture post event learnings and process improvements to continuously innovate and improve.

BONUS : Get to learn and experience industry ready project building that others have to pay for, for Free…
20% of Revenue generated from the activity 
(E.g If 50 people participate and pay 1000 each, you will make 10,000 on an average. You can take 2 such activities per month )
First month : Additional 5-10k support money for your expenses, while you are learning the ropes (this is even if you can't close any activity and can be extended to upto 2 months)